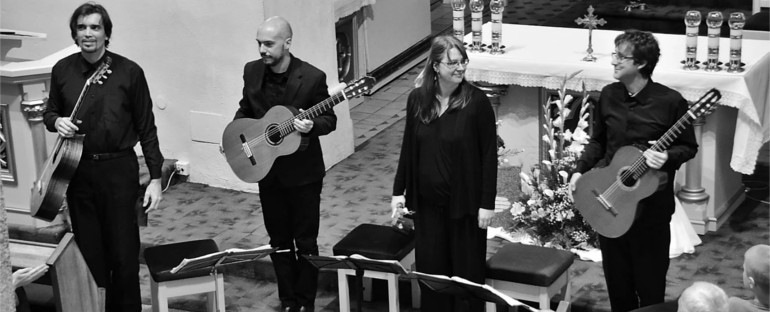 Bratislava Guitar Quartet (BGQ) is a unique musical group with particularly attractive repertoire and an over two decade performing experience. The Quartet has been succesfully established at the international musical scene through invitations to important musical festivals, multiple concerts, radio & TV broadcasts and rich discography.
Among many invitations to international guitar festivals (Czech republic, Greece, Hungary, Austria, Slovakia, Serbia, Great Britain), the quartet has also performed at important musical festivals (Bratislava music festival, Epoché, Mitte-Europa, Musica Nobilis) and gave concerts at prestigious concert halls such as the Slovak Philharmony and the Rudolfinum Hall Prague.
The collaboration with orchestras (Capella Istropolitana, ŠKO Žilina, Musica Cassovia) and conductors (Breiner, Dohnányi, Esteban, Mareček, Potokár), gave BGQ the oportunity to perform works for quartet and orchestra by composers such as Breiner, Burlas, Gismonti – Brouwer and Rodrigo. In adition, the contact and support from great composers as Peter Breiner, Leo Brouwer, Martin Burlas, Mathias Duplessy, Vladimír Godár, Pavol Malovec, Apostolos Paraskevas has always been a big motivation for them.
The three most important recordings of the the BGQ are: Recital (Akcent, 2000), Šeban – Godár – Breiner – Kolkovič (Hevhetia, 2009) and Slovak music for guitar quartet (Diskant, 2011), which includes many world premiered works dedicated to the quartet (Breiner, Burlas, Krák Malovec).
The current repertory of the group consists of two groups: Original 20th century music (Assad, Brouwer, Duplessy, Malovec, Nousis, York) and transcriptions of music from Renaissance, Baroque, Romanticism and the early 20th century (Byrd, Praetorius, Carulli, Bizet, de Falla, Stravinsky)